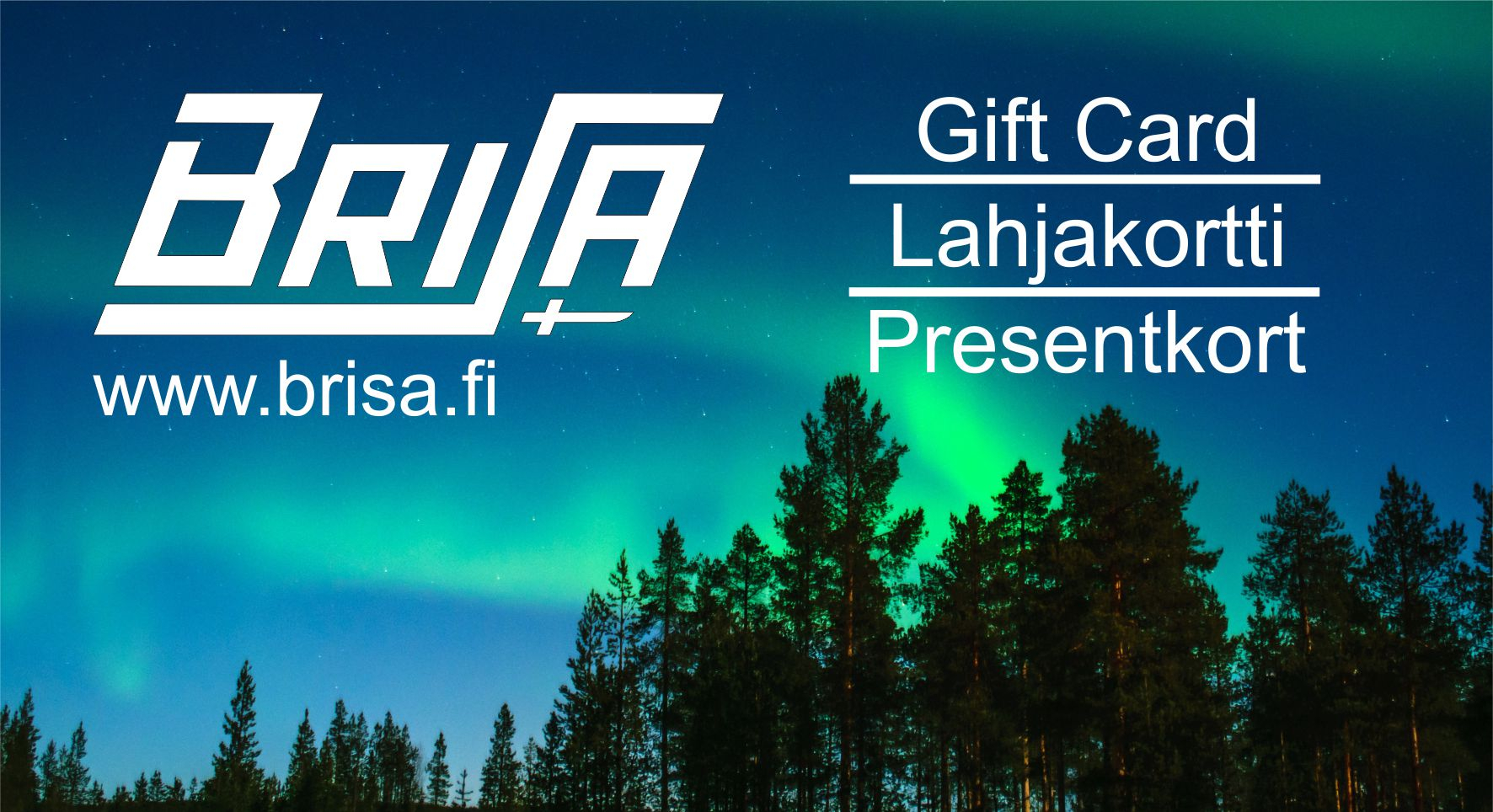 English:
The Brisa gift card is the perfect present for birthdays, anniversaries, holiday seasons and special occasions!
The receiver of the gift card has the possibility to choose exactly what they want from our wide selection of knife making materials.
To buy a gift card, send us an email to support@brisa.fi containing the following information; your name, contact information and the value of the gift card and the recipient´s name and email.
Payment options: Paypal or Credit card
After the gift card has been purchased, you will receive it digitally via email.
If the recipient has a customer account in our webshop, we will add the amount as store credit that they can use next time they shop. If they don´t have a customer account, we will make one for them using the information that you provided.
Français:
La carte-cadeau Brisa est le cadeau idéal pour les anniversaires, les fêtes et les occasions spéciales!
Le destinataire de la carte cadeau a la possibilité de choisir exactement ce qu'il veut parmi notre large sélection de matériaux de fabrication de couteaux.
Pour acheter une carte-cadeau, envoyez-nous un courriel à support@brisa.fi contenant les renseignements suivants : votre nom, vos coordonnées et la valeur de la carte-cadeau, ainsi que le nom et l'adresse électronique du destinataire.
Options de paiement: Paypal ou carte de crédit
Après l'achat de la carte-cadeau, vous la recevrez numériquement par courriel.
Si le destinataire a un compte client dans notre boutique en ligne, nous ajouterons le montant comme crédit magasin qu'il pourra utiliser lors de son prochain achat. S'ils n'ont pas de compte client, nous en créerons un pour eux en utilisant les informations que vous nous avez fournies.
Suomeksi:
Brisa lahjakortti on täydellinen lahja syntymäpäiville, vuosipäiville, jouluksi ja erityisille juhlapäiville!
Meidän laajasta puukontarvike valikoimasta vastaanottajalla on mahdollisuus valita tarkalleen mitä haluaa.
Jos haluat ostaa lahjakortin, lähetä sähköpostia meille: support@brisa.fi sisältäen seuraavat tiedot; nimesi, yhteystietosi, lahjakortin arvo ja vastaanottajan nimi ja sähköposti.
Maksutavat: Paypal tai Luottokortti
Kun lahjakortti on ostettu, saat sen digitaalisesti sähköpostitse.
Jos lahjakortin vastaanottajalla on asiakastili meidän verkkokaupassa, lisäämme summan heidän tilille jota he voivat käyttää seuraavalla ostoskerralla. Jos heillä ei ole asiakastiliä voimme tehdä sellaisen hänelle, teidän antamien tietojen avulla.
På svenska:
Brisa presentkort är den perfekta gåvan för födelsedagar, årsdagar, julklapp och speciella tillfällen!
Presentkortets mottagare har en möjlighet att välja exakt vad de vill ha från vårt breda urval av knivtillverkningsmaterial.
För att köpa ett presentkort, skicka ett mail till support@brisa.fi med följande information; ditt namn, kontaktuppgifter, värdet på presentkortet och mottagarens namn och e-postadress.
Betalningsalternativ: Paypal eller Kreditkort
När presentkortet är köpt kommer du att få det digitalt via e-post.
Om mottagaren har ett kundkonto i vår webshop, lägger vi till summan som butikskredit som de kan använda nästa gång de handlar. Om de inte har ett kundkonto kan vi göra ett åt dem med informationen som du ger åt oss.